TAKE CONTROL
Silage is the No. 1 feed component on most dairy operations – and it is of growing importance for beef cattle. Homegrown forage is an excellent source of protein and energy.

But the true benefits of silage are only available if it is of the highest possible quality. Simply put, MAGNIVA Silage Inoculants are designed to solve the operational challenges of producing and preserving quality silage. Our patented, unique bacterial formulations are produced in our facilities to safeguard product integrity.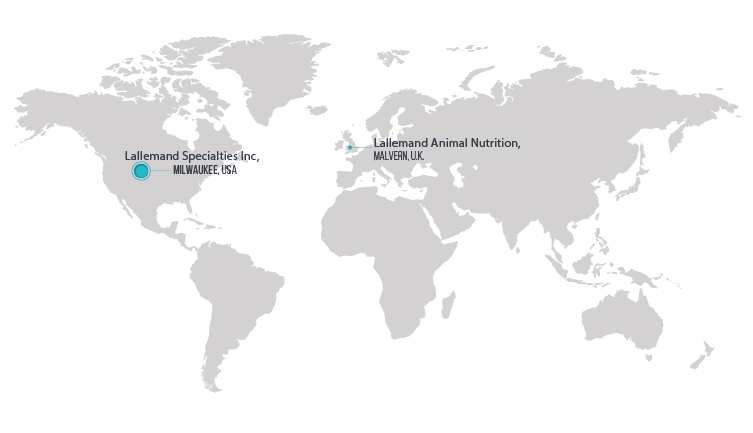 And MAGNIVA Silage Inoculants go through strict quality control tests to ensure bacterial quality and viability. Finally, each MAGNIVA solution is rigorously checked through independent global research and development testing to ensure it helps to deliver the best possible silage for your operation and herd.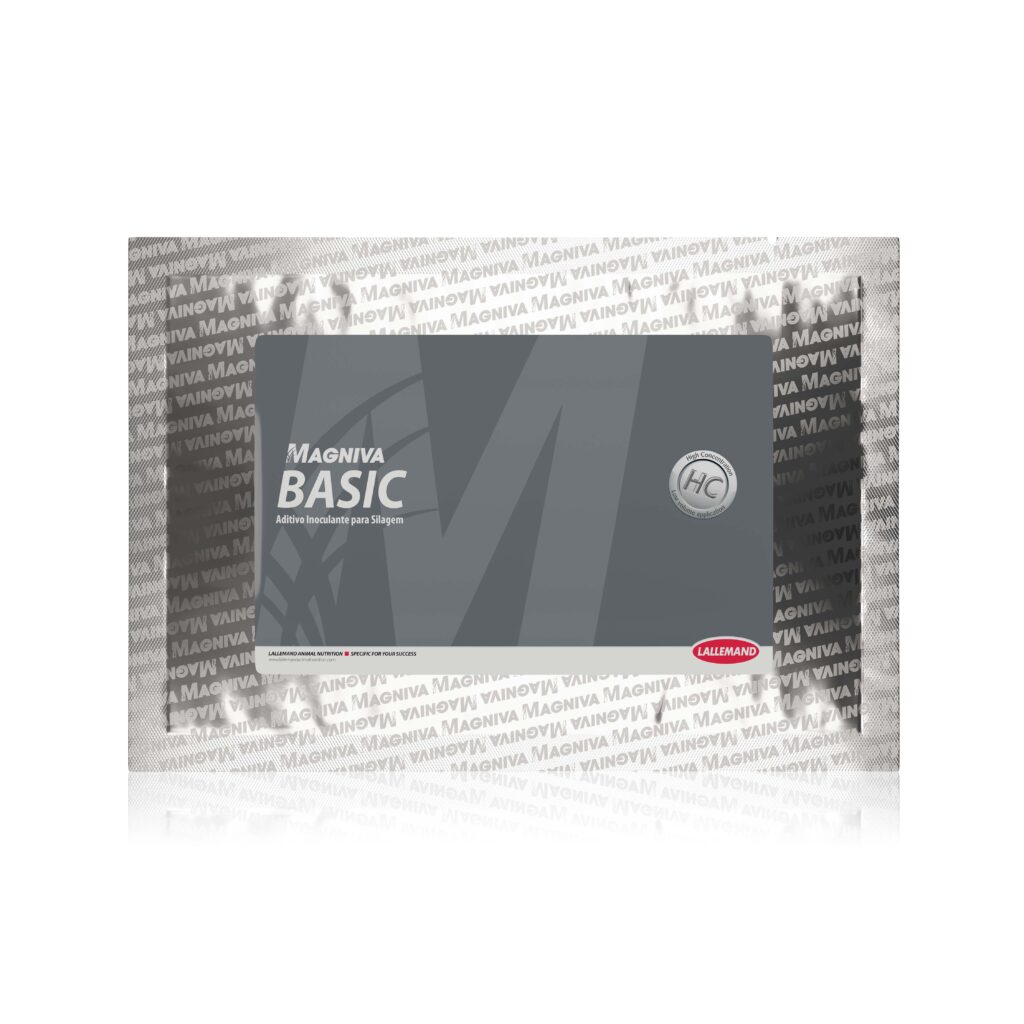 MAGNIVA BASIC
MAGNIVA Basic provides silage with higher dry matter (DM) recovery by promoting proper fermentation and reducing the population of undesirable microorganisms that cause damage to the health of animals.
HOW IT WORKS
MAGNIVA Basic provides efficient fermentation, preserves MS and reduces spoilage.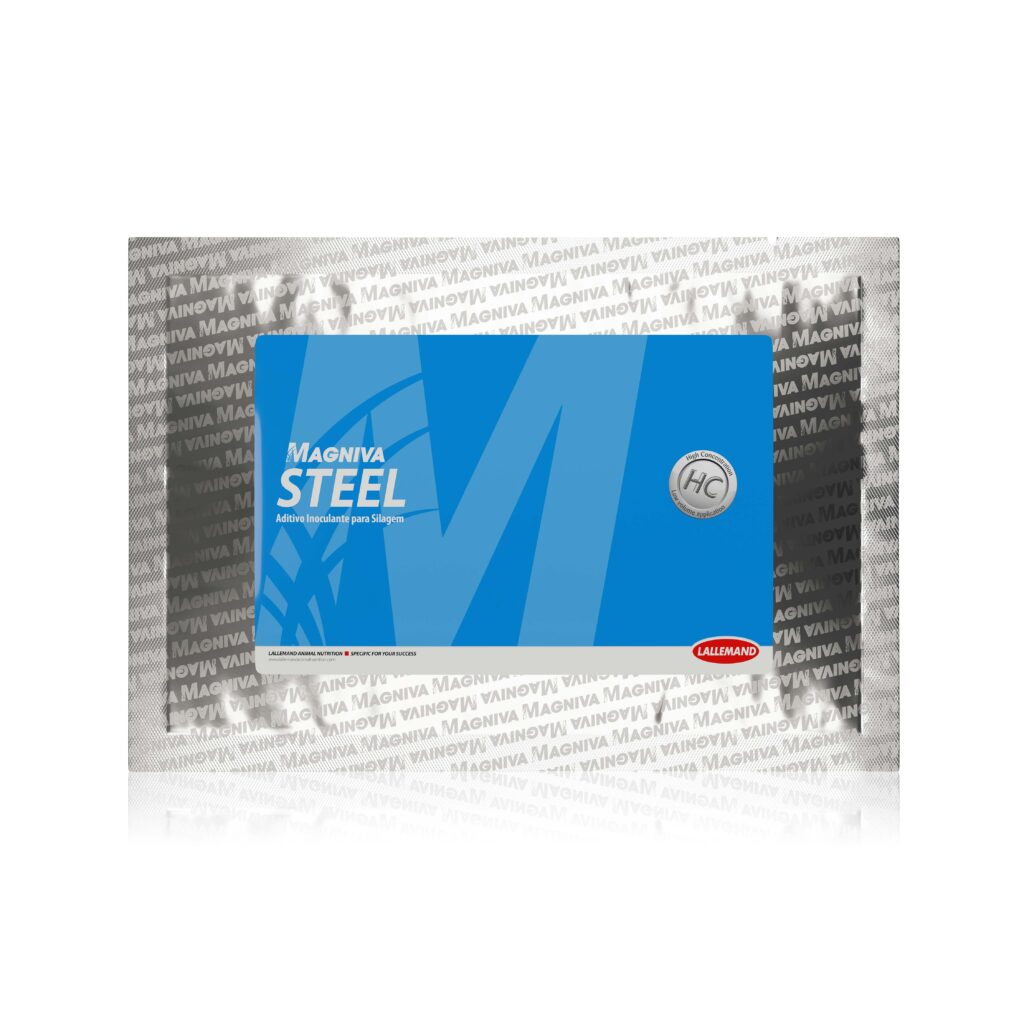 MAGNIVA STEEL
MAGNIVA Steel has been specifically developed to reduce ethanol production in fermentation and improve the aerobic stability of sugar-rich, high dry matter forages that will remain closed for at least 60 days.
HOW IT WORKS
Conduz a fermentação, produzindo uma silagem que não é apenas bem preservada, mas também estável na abertura.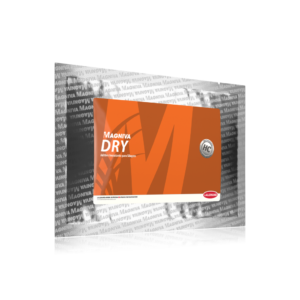 MAGNIVA DRY
MAGNIVA DRY was developed for forages with high challenges in acidification and opening. It contains in its formulation, fibrolytic enzymes and an association of homo and heterolactic bacteria, which benefit from the action of the enzymes and enhance the production of lactic and acetic acids. This ensures preservation and aerobic stability for forages.
HOW IT WORKS
Promotes rapid fermentation by making available soluble sugars from the fibrous portion of forages. The association of homo and heterolactic bacteria, allows adequate preservation and stability of the material after opening.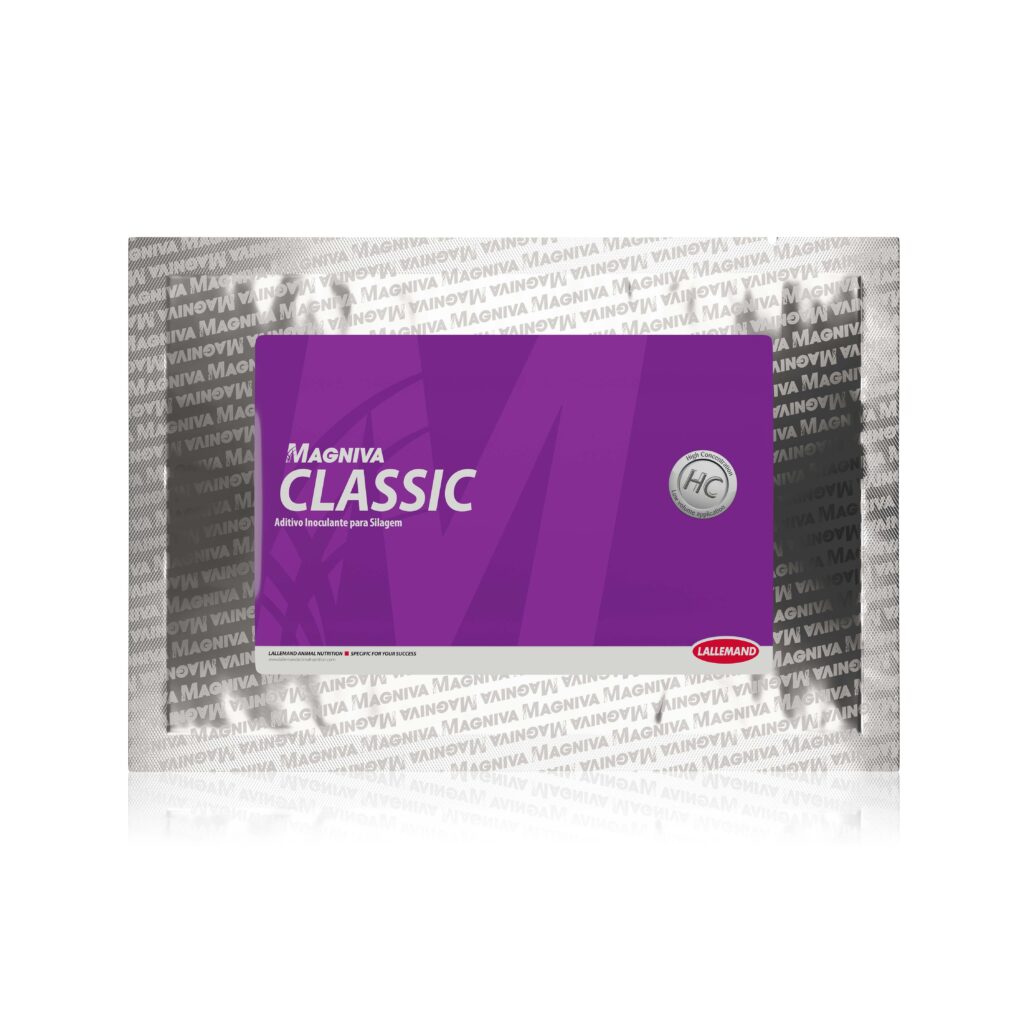 MAGNIVA CLASSIC
MAGNIVA Classic has been specially developed for silages with low dry matter content. The combined work of bacteria and enzymes provides silages with higher dry matter recovery and high nutritive value. Well preserved silages help to increase the energy and nutrient content of the diet.
HOW IT WORKS
MAGNIVA Classic uses four specific bacterial strains and four high activity enzymes. The combination of the bacterial strains directs the fermentation to a rapid pH drop, each one acting at different moments of the forage fermentation process. The combined work of bacteria and enzymes allows for quick and efficient preservation of forages with low dry matter contents.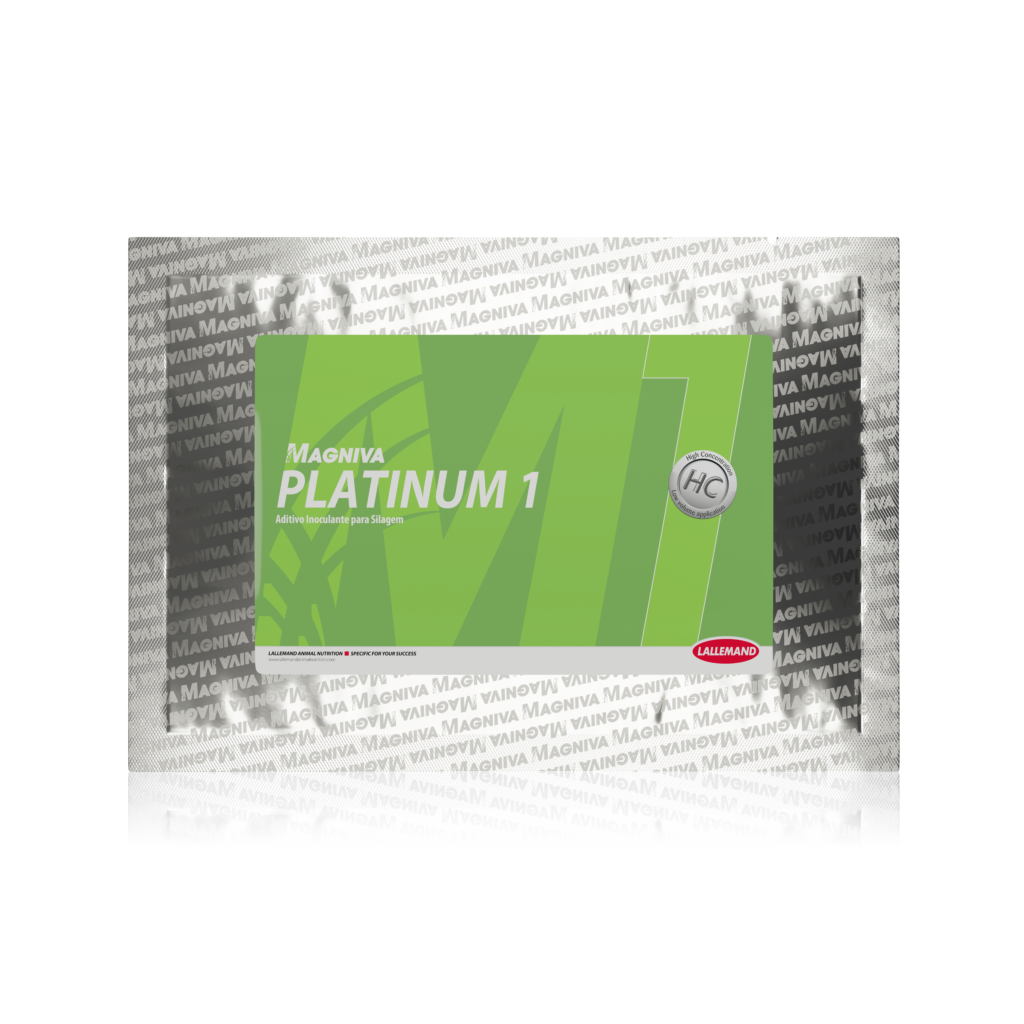 MAGNIVA PLATINUM 1
MAGNIVA Platinum 1 is a silage inoculant specially developed for more challenging aerobic stability. The combination of the new and unique strain L. hilgardii CNCM I-4785 with L. buchneri NCIMB 40788 provides significant and unmatched improvement during fermentation and ensures aerobic stability of the silage, allowing opening from 15 days of fermentation.
HOW IT WORKS
The combination of L. hilgardii CNCM I-4785 and L. buchneri NCIMB 40788 improves the aerobic stability of the silage with only 15 days of fermentation. Especially recommended when silage stock is low and the silo needs to be opened earlier. Compared to market technologies, the combination of these bacteria guarantees greater long-term aerobic stability, in response to the reduction in the growth of yeasts and filamentous fungi.
HOW YOU WIN?
MAGNIVA Forage Inoculants are designed to ensure silages are quickly preserved to maintain nutrient and energy levels and reduce dry matter losses. Doing so means you will have more silage of better quality, which helps control costs.
BETTER FERMENTATION = MORE NUTRIENTS AND ENERGY
The specialized bacteria in MAGNIVA Silage Inoculants enhance fermentation by rapidly reducing pH. This helps to preserve as much of the original nutrient and energy content as possible – ensuring it is available at feedout.
Why it matters: Reduced undesirable bacteria
Reduced undesirable bacteria, retained nutrient and energy levels, better quality silage to feed.
REDUCED SILAGE LOSSES. MORE SILAGE TO FEED
A poor fermentation not only means the silage will be of lower quality, there will be less of it to feed. Losses of over 15% of the bunker/silo are not uncommon, which puts pressure on feed stocks and can add additional cost if the silage lost needs to be replaced by purchased feeds.
MAGNIVA Forage Inoculants ensure a quick silage preservation, in turn this inhibits undesirable bacteria, which are responsible for increased DM losses from growing in the silage, thus ensuring reduced losses.
Why it matters: Reduced dry matter loss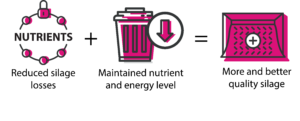 LESS MOLD AND YEAST AT OPENING = HIGHER FEED QUALITY AND BETTER PALATABILITY
Many silages – especially those with higher energy content and dry matter – are very prone to spoilage when opened. This is illustrated by silage heating and visual decreases in quality due to yeast and mold growth. These challenges can lead to significant losses of silage quantity and quality to the point where silage is rejected by the animals.
Why it matters: Aerobic stability 
Better aerobic stability means:
Greater management flexibility
Reduced mold and yeast growth
Reduced heating
Improved feed quality and palatability
Significantly less waste
More silage of higher quality to feed
Not all products are available in all markets nor are all claims allowed in all regions.
MAGNIVA Platinum vs control corn silage
Discover a visual presentation of MAGNIVA Platinum effect on aerobic stability of corn silage vs untreated corn silage. You can see that after 7 days exposure to air we have no visible signs of spoilage on MAGNIVA treated silage, while untreated silage starts to develop mold.