Download the LalSight Silage App
The LalSight Silage App from Lallemand Animal Nutrition offers silage calculators and other features to help you succeed in silage
management.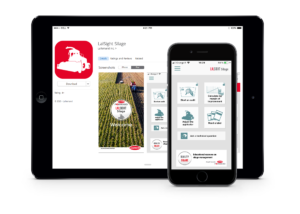 Download the app from the Apple App Store or Google Play.
Features
Corn Silage Analysis
Prepare for your next harvest with this audit, which measures the current silage density, pH and temperature — among other indicators. The aim is to detect the margins of improvement to help optimize forage quality.
ROI Calculator
Calculate the impact of silage management on your return on investment (ROI). From the milk potential of your forage to silage practices, get the best margins of improvement to optimize feed cost.
Understanding Inoculant Labels
Compare important indicators of silage inoculants, including:
Premix and the concentration of bacteria
Effectiveness of the additives (CFU/g of forage)
Adjusting the Inoculant Applicator
Get expert help adjusting harvesting equipment — both self-propelled harvesters and balers can be selected to calculate the flow rate of the applicators and its range of work.
Find the MAGNIVA silage inoculant that best fits your farming operation by using our product selector tool. Simply choose your region and identify your silage challenges.
Not all products are available in all markets nor are all claims allowed in all regions.