Mycotoxins are produced by specific molds, which are impossible to entirely avoid in the process of growing and storing crops for cattle feed.
The most common mycotoxins in forages include aflatoxin, deoxynivalenol (DON), zearalenone (ZEN), T-2 toxin and fumonisin. These mycotoxins are mainly produced by the molds:
Aspergillus, which require warm, humid conditions
Penicillium, which requires moist, humid, cooler conditions
Fusarium, which requires moist, humid, cooler conditions
Signs of Mycotoxin Contamination
A high level of mold contamination is often visible on silage and species of molds differ by their variety of colors. However, the color or level of mold infestation does not reflect the level of mycotoxin contamination — mycotoxins can be present even when molds are not visible. Visibly moldy forages should not be fed due to the possible presence of mycotoxins.
Risks for Mycotoxin Contamination
Mycotoxin production can occur during plant growth in the field or during the stages of silage making or storage that allows air ingress into the ensiled material. Risks for mycotoxin production include:
Delayed harvesting
Slow or delayed filling
Inadequate packing
Incorrect covering and sealing
Slow feedout rates
Bridging in silage bags
Damaged plastic wrap, bags or silo covers
Other factors that predispose mold growth and mycotoxin production include insect, rodent, rain, hail and lodging damage, drought and floods. These factors can create entry points for fungal spores that germinate, grow and produce mycotoxins.
Challenges with Mycotoxin Contamination
When fed to animals, mycotoxins can cause:
Reduced feed intake
Lowered milk production
Reproductive problems
Death
Also, certain mycotoxins can be transmitted from livestock diets to animal products and therefore pose a food safety hazard. When fed to cattle, mycotoxins can also cause lactic acid to build up, which can result in Sub Acute Ruminal Acidosis (SARA).
Overview of the main health effects of the most frequently observed mycotoxins (adapted from Gabler, 2015)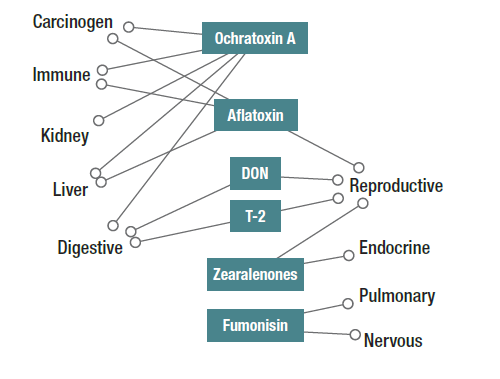 Preventing Mycotoxin Contamination
Good silage management practices are critical to reducing mycotoxin contamination. Mycotoxins are produced by molds that depend on oxygen for growth. Therefore, any steps that ensure and accelerate oxygen removal from silage at filling — or minimize oxygen ingress into silos — are important.
The following agronomic and silage management practices are recommended to minimize mold growth and mycotoxin production:
Avoid "zero till" methods as this leaves high levels of crop residues in the field, providing a harbor and growth source for molds
Plant insect- and disease-resistant varieties and practice crop rotation
Avoid or minimize the effects of plant stressors — such as inadequate fertilization, insect, bird or hail damage, lodging, flooding and drought — that predispose crops to mold infestation and mycotoxin production
Use recommended fungicide treatments
Clean ensiling structures prior to filling
Harvest at the right maturity to avoid ensiling mature, dry forages that are difficult to pack and inherently contain higher populations of yeasts and molds
Harvest at the right crop dry matter (DM) levels to facilitate packing
Use an inoculant proven to provide a fast fermentation
Use additives that are proven to minimize mold growth or apply mold-inhibiting organic acids like propionic acid
Use sharp knives at harvest to ensure a good chop length and enhance packing
Seal silos promptly and effectively
Weigh down plastic adequately
Inspect bags or cover plastic regularly and seal any holes promptly
Feed out at a rate that prevents heating and spoilage and minimizes exposed faces
Maintain a straight silo face
Discard all spoiled (mold-contaminated) silage
Managing Mycotoxin Contamination
If producers suspect disease caused by mycotoxin contamination, take the following actions:
Withdraw the problem silage from the ration where possible
If complete withdrawal is not available, dilute the amount of the problem silage fed
Ensure adequate levels of dietary antioxidants
Ensure the ration is balanced to provide adequate nutrients
Use proven mycotoxin absorbent(s)