High mineral fertilizers costs may lead, to producers increasing the application of organic fertilizers through the grass growing season. Adding high levels fertilizer can increase the risks of forage contamination from clostridia and other undesirable bacteria. Using MAGNIVA Platinum forage inoculants can help reduce the outgrowth of undesirable bacterial populations. 
Epiphytic microbiome dynamic in response to climate and field management. Alfalfa 39.5%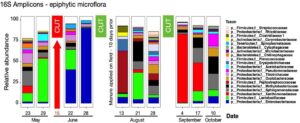 Trials published in Journal of applied microbiology, March 30, 2022 
After 1st cut, there is  large increase in

Enterobacteria

populations increasing ensiling challenges

 

After Manure application large increase in Clostridiaceae and Peptostreptococcaceae (clostridial families) which can cause butyric spoilage in silage, large DM losses and make the silage unpalatable

Results highlight how late application of manure can cause major problems in Alfalfa silage due to increased undesirable bacterial populations

 
Treating the silage with MAGNIVA Platinum helps reduce undesirable bacterial populations resulting in cleaner more nutritionally stable silage.
MAGNIVA treated Alfalfa silage, increased Lactobacillus populations through the ensiling period and reduced the levels of yeast significantly.
Variables
Treatments
1
4
8
16
32
64
LAB counts
Control
5.87b
6.10b
5.89b
6.40b
6.21b
5.93b
(log10 CFU/g)
MAGNIVA
6.54a
7.21a
7.18a
7.63a
7.43a
7.24a
P-value
0.011
0.013
0.014
< 0.001
< 0.001
< 0.001
 
 
 
 
 
 
 
 
Yeast counts
Control
4.29b
3.31
3.27
4.10
4.33
3.33
(log10 CFU/g)
LBLH
5.10a
3.83
3.05
< 2
< 2
< 2
P-value
0.022
0.057
0.568
< 0.001
< 0.001
< 0.001
 Trials published in Journal of applied microbiology, March 30, 2022 
Management Tips. 
If high levels of fertilizers are suspected it's wise to check the nitrate levels of the grass prior to cutting.

 

If the levels are >500 mg/kg or higher, the grass should be left for at least a week before cutting. High levels of nitrated buffer the grass making it difficult to preserve quickly and efficiently.

 

Cutting grass with high levels of nitrates will negatively affect the preservation to high DM losses and decrease in the feedout value of the silage.

Treating grass silage with one of the range of MAGNIVA forage inoculant range can help over come the challenges helping to ensure quicker preservation reducing undesirable bacterial populations, improving stability, maintain silage quality and reduces overall DM losses.

 
Learn how to test nitrate levels in grass :  How to do nitrate strip test for grass silage – YouTube